Join our lovely WordPress community!
The WordPress community communicates through Slack.
There are different WordPress Slack channels, like the official one, but the Belgian community has it own.
Let's chat.
What is Slack?
Slack is a direct messaging tool with reminiscence of the good old IRC channels, but then in a much nicer design and with more versatile possibilities. There are different channels accomodate different topics.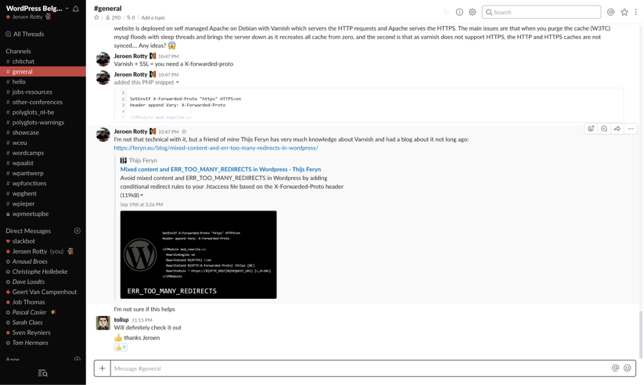 How does Slack work?
Slack works with channels in a sidebar on the left. When you join us, you will be invited just a few default channels, but there are more! If you click on the word Channels(or the + sign on the right) in the sidebar, you will be presented with a list with all the channels.
You can click on one of the channels to get a quick view, and then decide if you want to join the channel. At any given time you can leave/rejoin.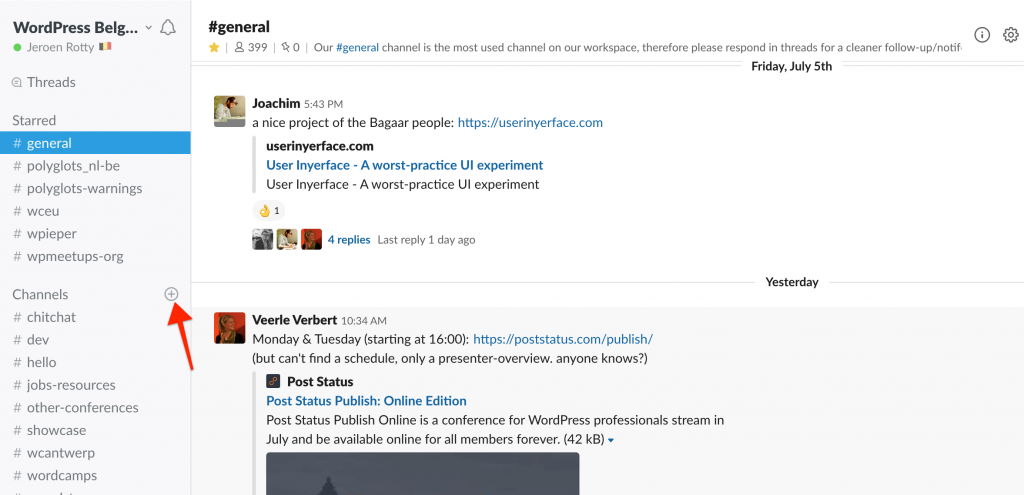 Other than that Slack is a chat 2.0 application with integrations and a nice notification system.
Join us
Want to talk to other devs/designers/bloggers/enthusiasts? Join the conversations! The community is a friendly environment for everyone.
You can register either with your @chat.wordpress.org account here. If you don't have or don't want one, you can also send us your e-mailaddress and we will add you manually. To create your @chat.wordpress.org first, create an account on this page: https://make.wordpress.org/chat/
Send an e-mail to invite [at] wpbelgium [dot] be and we make sure you get an invite to the slack channel, or use our form:
How can I log in?
Once you have your invite, you can log in at https://wordpressbelgium.slack.com or you can download a Slack client on your device(s).